FORESTRY EQUIPEMENT
Dal Pozzo Verricelli is committed from decades in supplying the right solutions on the forestry sector, thanks to the relationship with the end users of this field, with whom we developped togheter tailored and specific machines.
The products for this field can be the only winch in std version (foto 1), which robustness and performances are suitable for the heavy working conditions in presence of hill and rough soil, moreover we can offer complete equipment (see foto 2 and video) to be installed on the rear of the tractor, fed by hydraulic system or PTO.
These applications are mainly in external environnement.
All these forestry products are also indicated for agriculture.
WINCHES DPH and DPM series
Although all our winches are suitable for forestry use, more frquesntly customers ask for:
DPH4000, DPH8500, DPH13000 for external support (fig.3a, foto 4-5)
oppure i DPH5700, DPH6700, DPH8000, DPH9500 for built-on application (fig.3b, foto 6 e 7).
I All DPH are available in their mechanical version (DPM), the version fed by the PTO's motion (with mech. reverser) of the machine through the cardan shaft with trorque limiter, (max input speed: 920 giri/1').
As shown by the pictures, they can be installed in several points of your machinery, like buckets, excavators' arms, front/rear side of chassis, structures desgined by customers, etc…
Fairlead rollers and rope pressure ass.y (seen on pic. 6), rope and hook may be supplied as options.
We also offer remote control as option
The hydraulic winches of our DPH product range allows to offer two different approaches to the structure, in accordance to the customer's needs.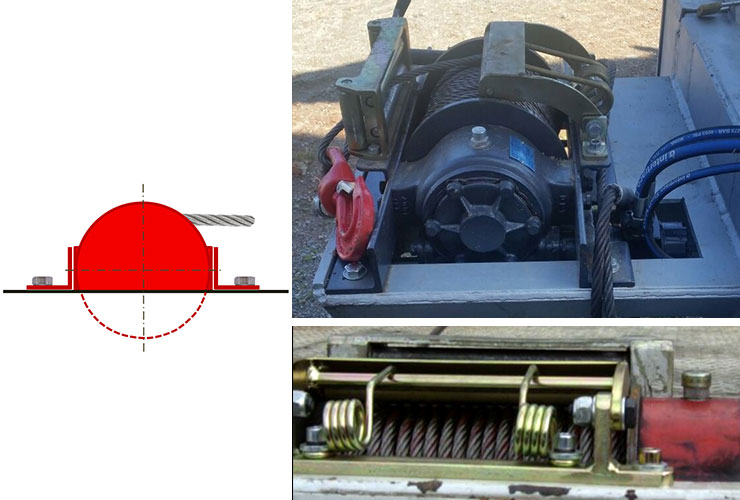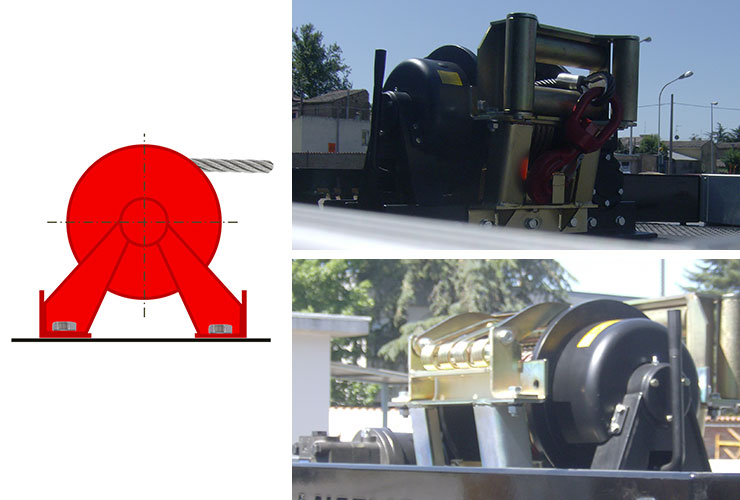 COMPLETE EQUIPMENT - SERIES DPA:
This series consists of a complete equipment that can be fixed on the rear of the tractor using the universal three-point hitch and consist of the winch installed inside the equipment whose external part of the structure provides the stop for wood or other materials that they are pulled. It can be hydraulic or mechanical (PTO).
At the end of the pulling maneuver, the articulation and the relative hydraulic cylinder will then allow lifting from the ground.
As said above, they take the motion from the power take-off (with inversion) of the tractor via a universal joint with torque limiter.
Identification of the winch
The series and models allow the quick identification of the winch. For instance, "Series 8500 mod. DPH" --> DPH8500 tell us the two main features of the product:
Series 8500 = Direct line pull of kg 8500 , gauged by dynamometer*
Mod. DPH = worm drive hydraulic winch
* = the pulling capacity on plane ground (indicative mass of the vechicle to be recovered) corresponds to about three times the direct line pull (direct line pull : pulling capacity = 1 : 3)
For TMT and RA, the description uses to provide the direct pull force in matric quintals (100Kg) @ 1st layer. In othere cases /like TMT-2, it indicates the size of the drum