SPECIAL APPLICATIONS
Dal Pozzo and TMA supply winches for various applications where a pulling force or resistance may be requested.
Here below just very few examples of applications in which we provided an adecuate solution.
MARINE APPLICAZIONS
Our products can be used in many fields in marine environement (except mooring) For instance we count many customers who use our winches for boat stock and maintenance, as shown in these pictures.
Moreover it is easy to notice how easy it is to move and feed them, this also makes possible to have just a temporary work before to be moved to another site.
The powder coating allows to get a good resistance corresponding to the minimum requirements of the marine environement but we can supply winches with C5M or C5VH under request, taking advantage from the wide and long time experince of TMA for marine hoisting winches.
WINCHES FOR UNDERGROUNDING
Few examples are given by our customers that use Dal Pozzo products to be installed in their pulling equipment, also underground (for electricity, telephone lines, optical fiber lines, etc...) as shown in these photos
Special thanks to to Cablac for the images they provided
WINCHES FOR TEST BENCHES
Our winches can be used as actuator or passive resistance for becnhes which aim is testing of actuator such like hydraulic cylinder, with no intensive or contiuous cycles.
WINCHES FOR TELESCOPIC BOOM ASSEMBLY BENCHES
They are chosen as actuators in order to perform telescoping in & out for the boom sections when the tele-cylinder isn't installed
PORTABLE WINCHES FOR VARIOUS USES
The structure, designed by the customer, will fit our winch and feature "anchor" points for the working phase (as eye bolts as seen here beside).
VERRBEN
Equipment by our design made especially for wirings pulling, optical fibers and other medium-light uses.
The mainly operate outdoor rigidly linked to the skid-loader equipped by universal quick link. Both actuation and cpntrolsd are only hydraulics, all linked to the skid-loader's systems.
Heavy duty work versions are also available under request.
Identification of the winch
The series and models allow the quick identification of the winch. For instance, "Series 8500 mod. DPH" --> DPH8500 tell us the two main features of the product:
Series 8500 = Direct line pull of kg 8500 , gauged by dynamometer*
Mod. DPH = worm drive hydraulic winch
* = the pulling capacity on plane ground (indicative mass of the vechicle to be recovered) corresponds to about three times the direct line pull (direct line pull : pulling capacity = 1 : 3)
For TMT and RA, the description uses to provide the direct pull force in matric quintals (100Kg) @ 1st layer. In othere cases /like TMT-2, it indicates the size of the drum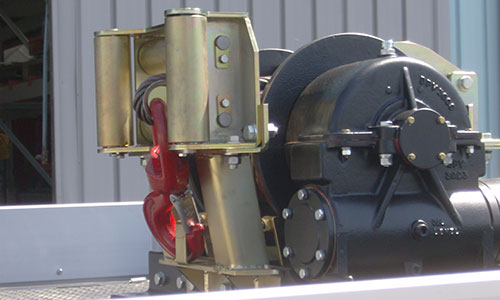 Verricelli con sistema a vite senza fine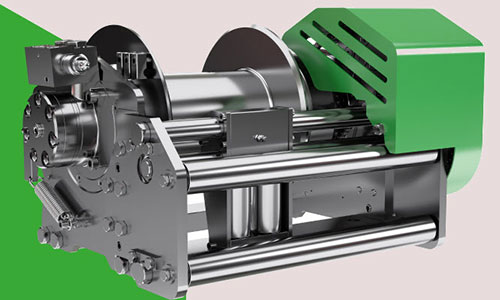 Verricelli con riduzione epicicloidale e guidafune mobile
Verricelli con riduzione epicicloidale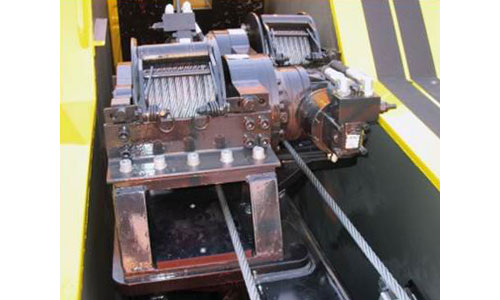 Verricelli con coppia conica